The HYDRA is the Swiss Army Knife of water bottles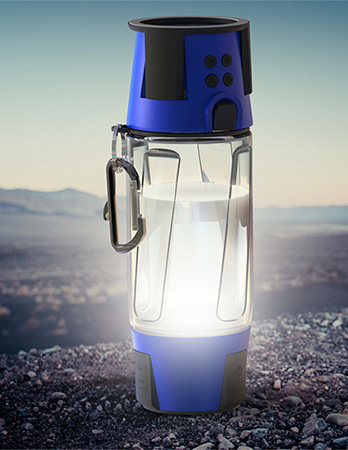 As a reservist and avid outdoorsmen, this product is right up my ally. Let me start by listing all the useful things this smart bottle can do to keep you out of harms way in the event of an emergency.
Acts as a power cell recharger, it can recharge 2 phones on a single charge
Emergency beacon, strobe LED light
FM Radio Receiver
Hanging Tent Lantern
Attach to your pack as a water canteen
Bluetooth speaker (who says we can't have fun when the SHTF)
Free App to use as sleep aid; You set your bottle to color fading while the App pumps relaxing sounds into the Hydra's speaker - turns off after time you choose.
Not to mention, it holds 20 oz of liquid
I put the HYDRA SmartBottle to the test and it did not disappoint. Checkout all the cool things this bottle can do…
CHECK OUT HYDRA SMART BOTTLE VIDEO FUNCTIONALITY
Why I chose to include this bottle in my bug-out-bag:
I really can't say enough about this bottle. I originally bought one for the sole purpose of having in my bug-out-bag. I now own three HYDRA SmartBottles. I got one for my bug-out-bag, one for everyday use and one in my car emergency kit. The LED light can be set to "flash mode", great for emergencies as a signal light in case you are, say, changing a car tire in the middle of the night.
With all the functions built-into this amazing smart bottle, it takes up far less room then if I had multiple items that performed the same functions.
When putting together your pack, weight and room is something you also want to keep down, but you don't want to compromise on your gear. The HYDRA SmartBottle is the wisest choice I've made for my pack - hands down.