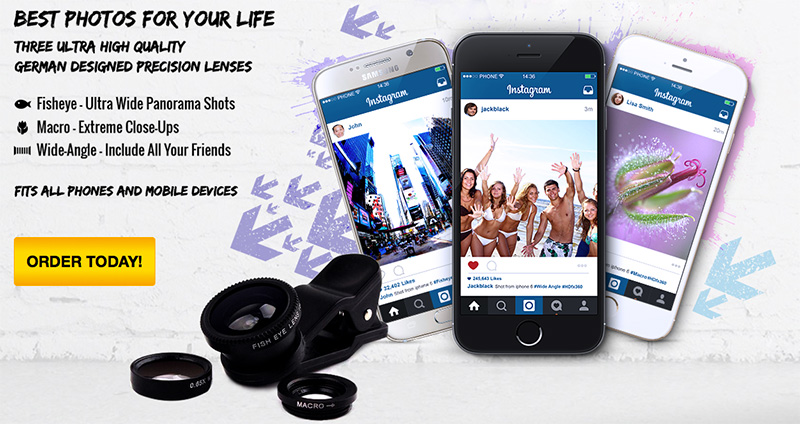 If you are a photo-fanatic, who loves to create amazing photos for your online blog or any of your social media accounts, you will have wondered what piece of photography tech is right for you. Using just your smart phone can lead to poorer quality images, and yet purchasing a professional camera can end up costing you a lot of money that you simply cannot afford to spend. But when it comes to generating an online audience for your photos, quality is key, so what should you do?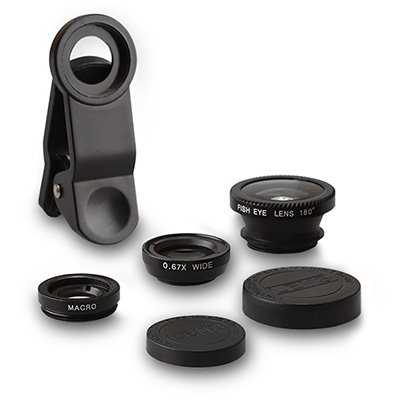 That is where the HDFX 360 photo camera lens comes into play. As a set of three high performing camera lenses that clip onto your smart phone, this piece of kit is ideal for all those photographer wannabes who can't quite afford a luxury camera.
These three lenses include :
a fish-eye for ultra-wide panorama shots,
a macro for extreme close-ups, and
a wide-angle for the best selfie shots that can include a large group of people – giving you the option to create new and exciting photos and videos.
These mobile attachment lenses are a great solution for a common mobile photography problem, and work well with all iPhone and Android phones, making it highly versatile. These three lenses can step up your photography skills by creating more unique and more interesting images, whether you are a beauty blogger, travel writer or just an enthusiast for photography.
It works in an extremely efficient and simple way in that the camera lenses are attached to a clip, similar to those that you may use to preserve a plastic bag of food for longer, which latches onto both side of your smart phone, securing it into place. Do not worry about any damage to your phone, as the clips are soft and do not leave any scratch marks either on the casing or the screen. Do bear in mind that with some phone models the clip at the front of the lenses may get in the way slightly of your touch screen, but this can be adjusted by simply placing the lenses in a different direction to better suit your phone.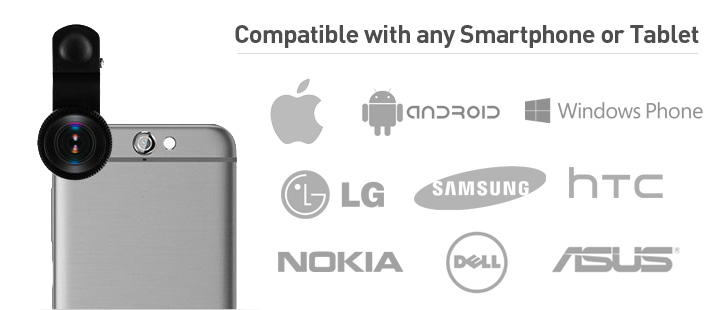 Though most smart phone cameras are a pretty good standard nowadays, the HDFX 360 phone camera lens will enhance your phone's capabilities of taking great pictures even more so. It also works on the video camera option too, which is going to be of great benefit for any video bloggers out there that cannot afford an expensive professional camera. The attachment lens is also suitable for clipping onto your laptop and tablet cameras, making it super easy and affective for video bloggers to create much better quality videos for their audiences.
Other Great Features of the HDFX 360 Lenses
A free microfiber cleaning kit included with a purchase
The ability to shoot all focal lengths
The scratch-resistant aspheric lens, which protects against dust and water – great for outdoor photographers
20x optical zoom when using the macro lens
180 degrees' field of view when using the fish eye lens
100% auto focus as well as auto-stabilization compatible
Really life-life photos as well as videos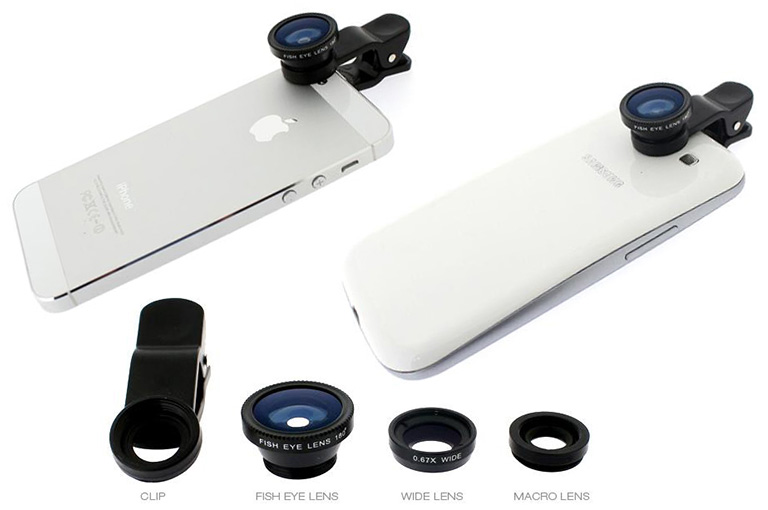 This great accessory has been built with quality in mind, as it is designed to work for a very long time without the sacrifice of good quality photos and also videos. The HDFX 360 attachment lenses were also built to avoid damages and degradation from frequent use, which is perfect for regular Instagram addicts!
With no app required, the HDFX 360 mobile attachment lens is a refreshing solution to the photography on smartphones. Using applications on your phone is great for creating some effects of your photos, however, if you really want a more professional photo or video, and want to keep some of the storage free on your phone, then these lenses are the way to go.  The HDFX 360 has won several awards including awards from the Global Photography Association and the International Photo Lens Association.
It is a proven great quality product with an innovative solution to creating excellent images in a world in which a picture is worth a thousand words. For anybody who is generally interested in photography or has an online business that requires great quality photographs or videos, these mobile attachment lenses are the perfect fit for you.

HD Fx 360 Pricing Overview:
1 Pack HDFX360 ($56.00/Pack) - 75% OFF $56.00
2 Pack HDFX360 ($48.50/Pack) - 79% OFF $97.00
3 Pack HDFX360 ($44.67/Pack) - 81% OFF $134.00
4 Pack HDFX360 ($42.25/Pack) - 82% OFF $169.00
5 Pack HDFX360 ($39.20/Pack) - 83% OFF $196.00 - BEST SELLER!
10 Pack HDFX360 ($35.00/Pack) - 84% OFF $350.00
15 Pack HDFX360 ($30.00/Pack) - 86% OFF $450.00
20 Pack HDFX360 ($27.50/Pack) - 88% OFF $550.00
Shipping:
Currently the items is sold only in: United States, Canada, Australia, United Kingdom, Ireland and New Zealand.
Before and after images with HD Fx 360